Vegan Black Bean Quesadillas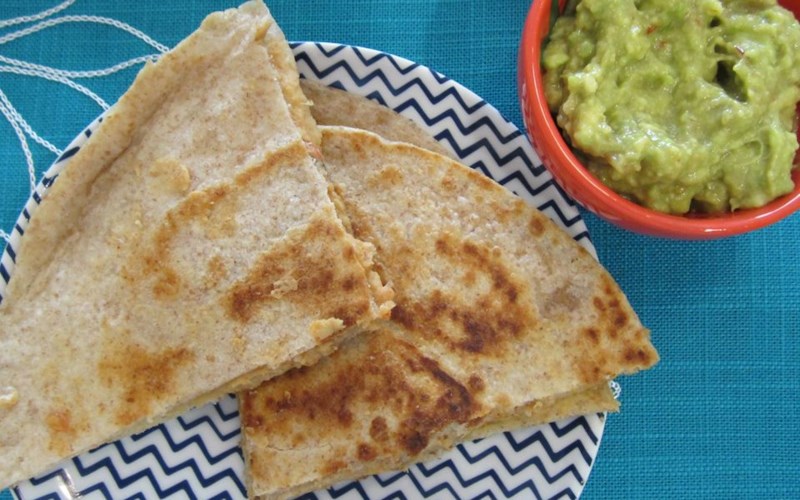 Preparation
10m
Cook Time
45m
Ready In
55m
Servings
4
Calories
416
Ingredients
1 (15 ounce) can great Northern beans, drained and rinsed
3/4 cup diced tomatoes
1 clove garlic
1/3 cup nutritional yeast
1 teaspoon ground cumin
1/4 teaspoon chili powder
salt to taste
1 pinch cayenne pepper, or to taste
1/2 cup black beans, drained and rinsed
1/4 cup diced tomatoes
1 tablespoon olive oil, or as needed
8 whole grain tortillas
cooking spray
Steps
1Blend great Northern beans, 3/4 cup tomatoes, and garlic in a food processor until smooth; add nutritional yeast, cumin, chili powder, salt, and red pepper flakes and blend again.
2Transfer bean mixture to a bowl. Stir black beans and 1/4 cup tomatoes into bean mixture.
3Heat olive oil in a skillet over medium-high heat.
4Place a tortilla in the hot oil. Spread about 1/4 cup filling onto the tortilla.
5Place another tortilla on top of filling; cook until filling is warmed, about 10 minutes.
6Spray the top tortilla with cooking spray and flip quesadilla to cook the second side until lightly browned, 3 to 5 minutes. Repeat with remaining tortillas and filling.