Ting-Town Barbeque Beef Sandwich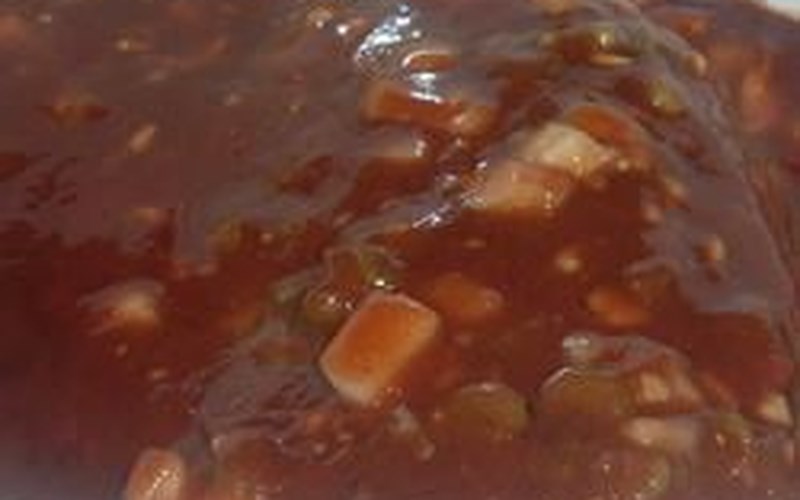 Preparation
20m
Cook Time
7h 20m
Ready In
7h 40m
Servings
16
Calories
355
Ingredients
3 stalks celery, sliced thin
1 large onion, coarsely chopped
4 cloves garlic, minced
1 cup ketchup
1 cup barbeque sauce
1 tablespoon prepared yellow mustard
1 cup beer
2 tablespoons cider vinegar
2 tablespoons Worcestershire sauce
2 tablespoons brown sugar, packed
1 teaspoon chili powder
1 teaspoon salt
1 teaspoon ground black pepper
4 pounds boneless beef chuck roast, trimmed of fat
16 hamburger buns, split
Steps
1To make the sauce, combine the celery, onion, garlic, ketchup, barbeque sauce, mustard, beer, cider vinegar, Worcestershire sauce, brown sugar, chili powder, salt, and pepper in a bowl; stir until well blended.
2Place the chuck roast in a slow cooker. Pour the sauce evenly over the meat. Cover and cook the roast on HIGH for 3 hours. Reduce heat to LOW, and continue cooking until very tender, about 4 hours more.
3About 1/2 hour before serving, remove the chuck roast from the slow cooker and shred the meat with a large fork. Return the meat to the slow cooker, and cook uncovered so the sauce thickens, on LOW for 20 minutes.
4To serve, dip the flat sides of hamburger buns into the sauce and top with meat.