Tater Tot Taco Casserole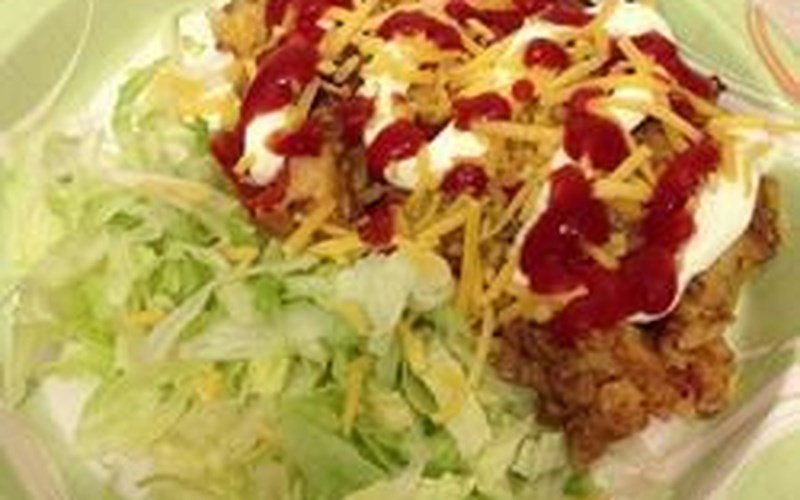 Preparation
20m
Cook Time
50m
Ready In
10m
Servings
8
Calories
408
Ingredients
1 (16 ounce) package frozen bite-size potato nuggets (such as Tater Tots®)
1 pound ground beef
1 (1 ounce) packet taco seasoning
1 cup water
1 (15 ounce) jar nacho cheese dip
1 (10 ounce) can canned diced tomatoes and green chiles, drained
1/4 cup sliced black olives
1/2 cup shredded Cheddar cheese
2 tablespoons taco sauce
1/2 cup shredded Cheddar cheese
1 (10 ounce) bag shredded lettuce
1/4 cup sour cream (optional)
Steps
1Preheat oven to 350 degrees F (175 degrees C).
2Place potato nuggets in the bottom of a glass baking dish. Bake in the preheated oven until cooked through and crisp, about 20 minutes.
3Cook ground beef in a large skillet over medium heat until no longer pink, 10 to 12 minutes. Drain off fat and discard. Stir in taco seasoning and water. Reduce heat to low and simmer until sauce is reduced and thick, about 10 minutes.
4Spoon cooked beef mixture over the potato nuggets. Pour nacho cheese dip evenly over the beef. Top with canned tomatoes, olives, 1/2 cup shredded Cheddar cheese, and taco sauce. Bake in the oven until cheese is melted and the casserole is warmed through, about 10 minutes. Remove from oven and top with 1/2 cup shredded Cheddar cheese. Serve atop shredded lettuce and garnished with sour cream.