Sweet Potato-Turkey Meatloaf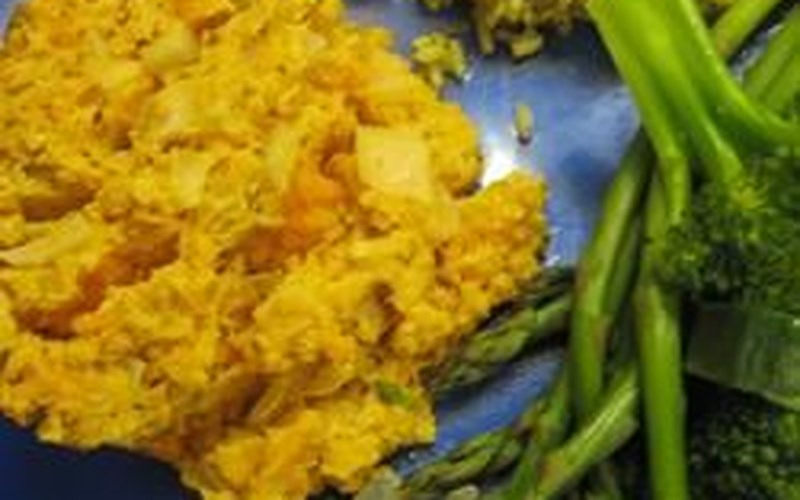 Preparation
25m
Cook Time
10m
Ready In
35m
Servings
4
Calories
336
Ingredients
1 large sweet potato, peeled and cubed
1 pound ground turkey breast
1 large egg
1 small sweet onion, finely chopped
2 cloves garlic, minced
1/4 cup honey barbecue sauce
1/4 cup ketchup
2 tablespoons Dijon mustard
2 slices whole-wheat bread, torn into small crumbs
1 tablespoon freshly ground black pepper, or to taste
1 tablespoon salt, or to taste
Steps
1Preheat oven to 350 degrees F (175 degrees C). Lightly grease a 2 quart baking dish.
2Bring a pot of lightly salted water to a boil. Add the sweet potato, and cook until soft, about 10 minutes. Drain the sweet potatoes, and mash or whip until smooth.
3Mix the ground turkey together with the egg, sweet onion, garlic, barbecue sauce, ketchup, Dijon mustard, and whole wheat bread crumbs in a large mixing bowl. Season to taste with salt and pepper. Add the sweet potatoes, and stir until evenly combined. If the mixture seems too wet, add more bread crumbs. Use your hands to form the turkey mixture into a loaf shape and place in the prepared baking dish.
4Bake in the preheated oven 1 hour. Slice the loaf to serve.