Spicy Crispy Beef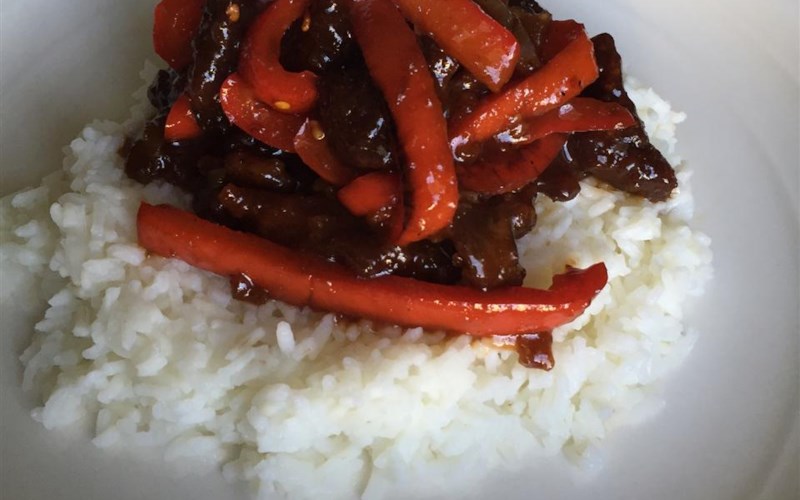 Preparation
20m
Cook Time
20m
Ready In
45m
Servings
4
Calories
489
Ingredients
1/4 cup cornstarch
1/4 tablespoon salt
black pepper
12 ounces flank steak, thinly sliced
1 quart oil for frying
4 tablespoons soy sauce
1 tablespoon rice vinegar
1/2 tablespoon rice wine
1 1/2 tablespoons honey
7 tablespoons granulated sugar
1/2 tablespoon chile paste
1/4 cup water
3 tablespoons chopped fresh ginger root
1 tablespoon vegetable oil
2 cloves garlic, chopped
1/4 cup sliced onion
1/4 cup diced red bell pepper
Steps
1Heat oil in deep-fryer to 375 degrees F (190 degrees C).
2Meanwhile, in a mixing bowl, combine cornstarch, salt and pepper together. Mix thoroughly. Toss the steak slices in the cornstarch mixture and coat well.
3Deep fry the coated steak slices until golden brown. Check to make sure they are cooked through. Remove from oil, and set aside.
4In another mixing bowl, combine the soy sauce, rice vinegar, rice wine and honey. Add sugar, chili paste, water, and ginger. Mix well and set aside.
5Heat a wok or deep frying pan over medium high heat. Add 1 tablespoon of oil, and quickly saute the onion, garlic and red pepper for 30 seconds. Add the sauce mixture, and cook another 30 seconds. Finally, add the strips of fried steak and toss to heat through and coat with sauce.