Sirloin Steak with Mushrooms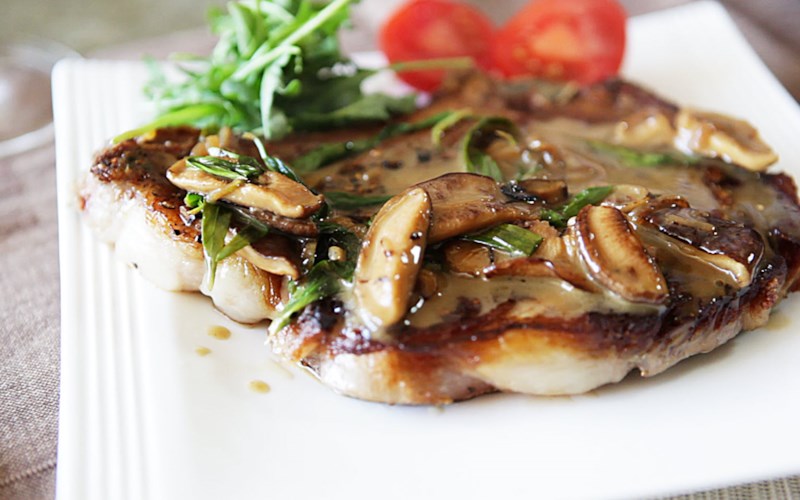 Preparation
15m
Cook Time
15m
Ready In
30m
Servings
2
Calories
569
Ingredients
1 (12 ounce) sirloin steak
salt and freshly ground black pepper to taste
2 tablespoons oil, or as needed
1/3 cup shiitake mushrooms, stems discarded, caps thickly sliced
1/2 shallot, sliced
1 clove garlic, peeled
1/3 cup dry white wine
1/3 cup beef broth
1/4 cup butter, cubed
2 tablespoons chopped fresh tarragon
Steps
1Season steak with salt and pepper on both sides.
2Heat a heavy skillet over high heat until a drop of water immediately sizzles and evaporates when flicked onto the skillet's surface. Pour in oil. Add steak and cook until it is beginning to firm and is hot and slightly pink in the center, about 4 minutes per side. An instant-read thermometer inserted into the center should read 140 degrees F (60 degrees C).
3Remove steak from skillet and set aside. Tent with foil to keep warm. Discard oil remaining in the skillet.
4Reduce heat to medium-low and cook mushrooms, shallot, and garlic, stirring frequently, until softened, about 5 minutes. Pour in white wine and cook until slightly reduced. Pour in beef broth. Reduce heat to low and stir in butter, 1 cube at a time, stirring well after each addition. Stir in tarragon. Season with salt and pepper. Serve mushroom sauce over the steak.