Linda's Lasagna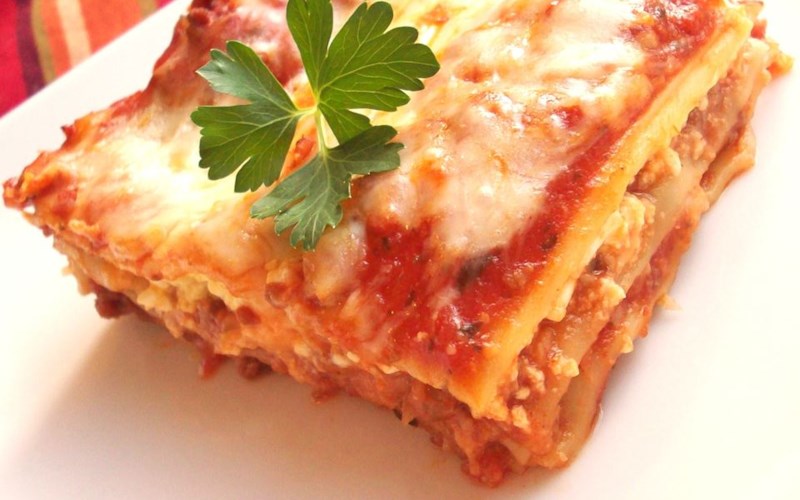 Preparation
45m
Cook Time
45m
Ready In
2h 30m
Servings
8
Calories
494
Ingredients
1 pound lean ground beef
1 onion, chopped
2 (6 ounce) cans tomato paste
1 (14.5 ounce) can crushed tomatoes
2 cups water
1 tablespoon dried oregano
2 teaspoons garlic powder
2 teaspoons salt
1/4 teaspoon ground black pepper
1 tablespoon white sugar
12 ounces cottage cheese
1/2 cup grated Parmesan cheese
1 egg
9 lasagna noodles
1 pound shredded mozzarella cheese
Steps
1In a large skillet over medium heat, cook beef until brown. Drain. In another skillet over medium heat, cook onion until translucent. Combine beef and onion in a large saucepan with tomato paste, crushed tomatoes, water, oregano, garlic powder, salt, pepper and sugar. Cook over medium heat until mixture comes to a boil. Reduce heat to low and simmer 1 hour.
2While sauce is simmering, blend cottage cheese, Parmesan and egg until smooth. Set aside.
3Bring a large pot of lightly salted water to a boil. Add pasta and cook for 8 to 10 minutes or until al dente; drain.
4Preheat oven to 350 degrees F (175 degrees C).
5Spread 1 cup of sauce in the bottom of a 9x13 inch baking dish. Cover sauce with 3 noodles. Cover noodles with one-third of remaining sauce. Top with half the mozzarella. Place another layer of noodles and one of sauce over the mozzarella; top that with the cottage cheese mixture. Top with remaining 3 noodles and remaining sauce.
6Bake in preheated oven 30 minutes. Sprinkle remaining mozzarella on top and bake 15 minutes more, until golden and bubbly.