Italian Baked Eggplant with Parmesan (Parmigiana di Melanzane)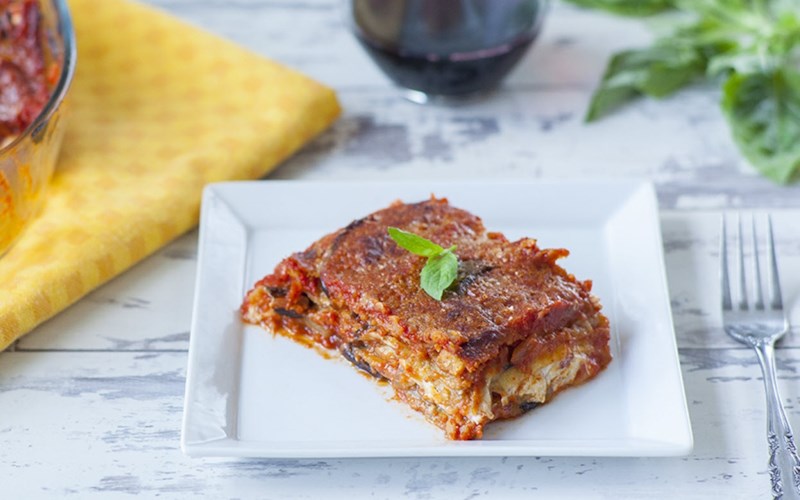 Preparation
30m
Cook Time
15m
Ready In
3h 05m
Servings
8
Calories
592
Ingredients
3 pounds large eggplants, sliced lengthwise into 1/4-inch slices
2 tablespoons coarse salt, or as needed
5 cups vegetable oil for frying
2 tablespoons flour for dredging
Tomato Sauce:
2 tablespoons extra-virgin olive oil
1/2 onion, finely chopped
3 cloves garlic, halved
3 (15 ounce) cans tomato puree
8 leaves fresh basil leaves, halved
salt to taste
1 1/2 (16 ounce) packages fresh mozzarella cheese, sliced
2 1/2 cups freshly grated Parmesan cheese
Steps
1Place a single layer of eggplant slices in a colander sitting on a plate and sprinkle with coarse salt. Cover with a second layer and sprinkle with salt. Repeat with remaining eggplant. Place a plate on top and add a weight to put pressure on the eggplant slices. Let stand at room temperature for about 1 hour.
2Rinse eggplant slices under running cold water to wash off all the salt. Pat dry on all sides with paper towels.
3Heat oil in a deep skillet over medium-high heat. Dredge eggplant slices in flour on both sides and add to the hot oil, working in batches. Deep fry eggplant until golden, 2 to 3 minutes per side. Drain on paper towels.
4Heat olive oil in a large pot over medium heat; cook garlic and onion until soft and translucent, about 5 minutes. Add tomato puree, 4 basil leaves, and salt. Cook, stirring often, until sauce starts to thicken, about 20 minutes. Remove sauce from heat. Discard garlic and stir in remaining 4 leaves basil.
5Preheat oven to 350 degrees F (175 degrees C).
6Spread a layer of tomato sauce over the bottom of a baking dish. Cover with a single layer of eggplant slices. Top with more sauce, mozzarella slices, and Parmesan cheese. Continue making layers, a total of 3 to 5, finishing with tomato sauce and grated Parmesan cheese.
7Bake in the preheated oven until heated through and bubbling, 30 to 40 minutes. Remove from oven and let stand for 20 minutes before serving.