Italian Asparagus and Mushroom Frittata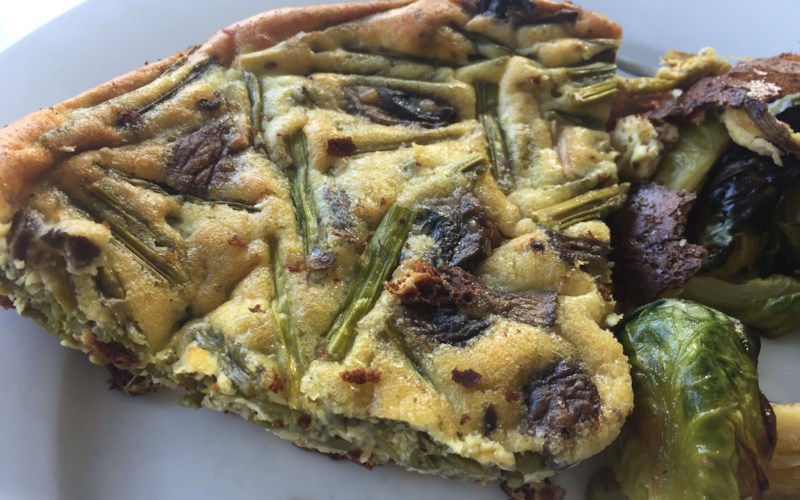 Preparation
10m
Cook Time
30m
Ready In
40m
Servings
4
Calories
194
Ingredients
2 tablespoons extra-virgin olive oil
1 clove garlic, peeled
1/2 bunch asparagus, trimmed and cut into 1-inch pieces
1 (9 ounce) package sliced fresh mushrooms
salt and freshly ground black pepper to taste
1/3 cup dry white wine
4 eggs
1/3 cup milk
3 tablespoons freshly grated Parmesan cheese, divided
1 tablespoon chopped fresh parsley
Steps
1Preheat the oven to 350 degrees F (175 degrees C).
2Heat oil in an oven-safe skillet over medium heat and cook garlic until it starts to sizzle, about 1 minute. Add asparagus and mushrooms and cook until softened, 4 to 5 minutes. Season with salt and pour in white wine. Discard garlic.
3Mix eggs, milk, 2 tablespoons Parmesan cheese, parsley, salt, and pepper in a bowl. Pour into the skillet over the asparagus and mushrooms.; stir gently. Cook until eggs start to set, about 3 minutes. Sprinkle with remaining 1 tablespoon Parmesan cheese and transfer to the oven.
4Bake in the preheated oven until frittata has risen and is set, about 20 minutes. Cool slightly before serving.