Hot Water Cornmeal Bread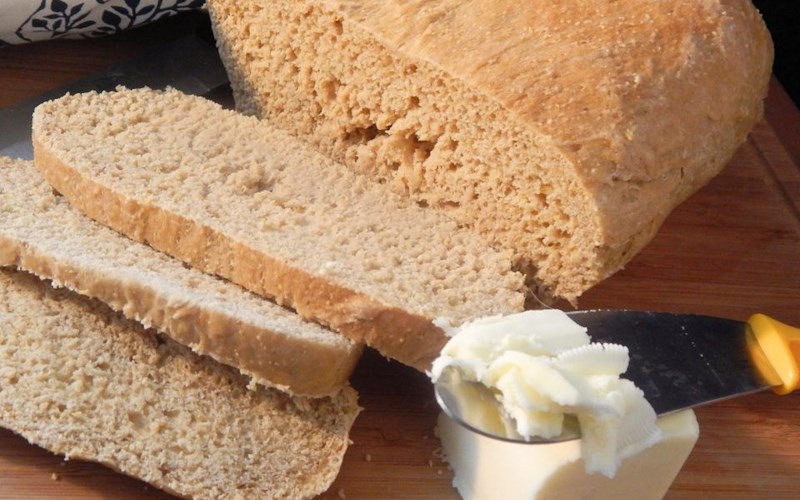 Preparation
30m
Cook Time
40m
Ready In
2h 40m
Servings
72
Calories
167
Ingredients
4 cups boiling water
1 cup cornmeal
2/3 cup molasses
1/2 teaspoon baking soda
1/2 cup margarine
2 tablespoons salt
4 cups cold water
1/4 cup warm water (110 degrees F/45 degrees C)
1 (.25 ounce) package active dry yeast
20 1/2 cups bread flour
Steps
1Place boiling water into a large mixing bowl. Stir cornmeal slowly into boiling water to make mush, stirring constantly to eliminate large lumps. Add baking soda to molasses, and beat until light and foamy. Add molasses mixture to cornmeal mixture. Mix in butter or margarine and salt. Stir in cold water to make mixture lukewarm. Dissolve yeast in 1/4 cup warm water, and add to cornmeal mixture. Gradually add flour.
2Turn dough out onto a lightly floured surface, and knead until smooth. Place in a large greased bowl. Grease the top of the dough. Cover with a damp cloth, and allow to rise until doubled.
3Punch down dough, and divide into 6 parts. Shape 4 parts into loaves, and place in 9 x 5 inch loaf pans. Use the remaining dough to make into 2 dozen rolls. Allow to rise until doubled.
4Bake at 350 degrees F (175 degrees C) for 35 to 40 minutes, or until brown.