Chef John's Pavlova with Strawberries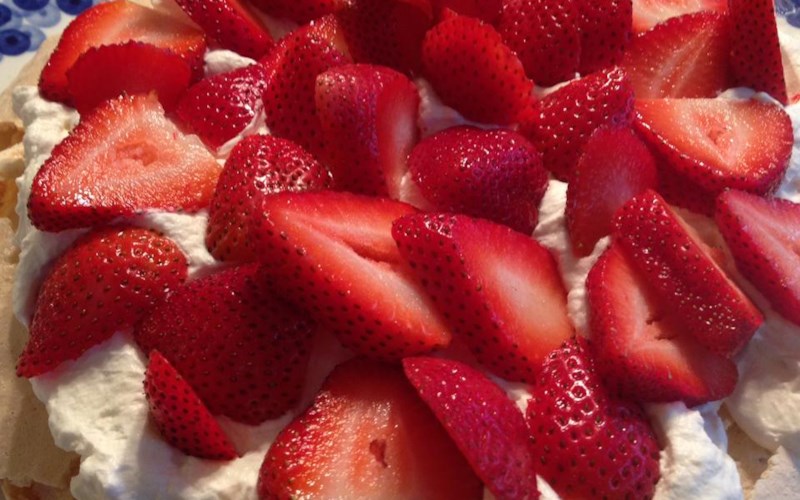 Preparation
15m
Cook Time
1h
Ready In
2h 15m
Servings
12
Calories
210
Ingredients
3/4 cup sugar
2 teaspoons cornstarch
3 egg whites, room temperature
1 teaspoon vanilla extract
3/4 teaspoon white vinegar
2 cups heavy cream
3 tablespoons confectioners' sugar
1 teaspoon vanilla extract
1 pint whole strawberries, stems removed
Steps
1Preheat oven to 250 degrees F (120 degrees C).
2Line a baking sheet with a silicone baking mat or parchment paper.
3Whisk sugar and cornstarch in a bowl. Set aside.
4Beat egg whites in a bowl until they are foamy and have a thick, ribbony texture, 2 to 3 minutes.
5Pour 1/4 of the sugar mixture into the egg whites; whisk until completely incorporated, about 30 seconds. Repeat for the rest of the sugar mixture, whisking after each addition, until all of the sugar mixture is incorporated and the egg whites are glossy and thick.
6Pour vanilla and vinegar into egg white mixture; whisk until you can lift your beater or whisk straight up and the egg whites form a sharp peak that holds its shape, 2 to 3 minutes.
7Spoon egg white mixture onto prepared baking sheet; spread out into a 2-inch high by 6-inch wide disc.
8Bake in the preheated oven for 1 hour.
9Turn off the oven, crack open the oven door and let the Pavlova cool for one hour.
10Whip cream, sugar, and vanilla extract in a bowl until soft peaks form, 3 to 4 minutes.
11Transfer Pavlova to a serving plate. Top with whipped cream and fresh strawberries.