Boba (Coconut Milk Black Tea with Tapioca Pearls)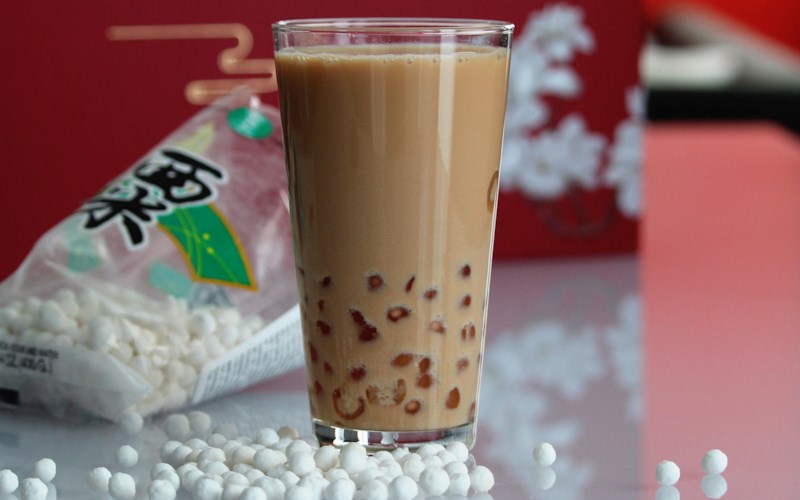 Preparation
10m
Cook Time
55m
Ready In
2h 10m
Servings
5
Calories
642
Ingredients
Tapioca Pearls:
7 cups cold water
1/2 (8.8 ounce) package tapioca starch balls
1/2 cup brown sugar
1/2 cup white sugar
Tea:
4 cups brewed black tea (such as Lipton®), chilled
1 (14 ounce) can coconut cream
12 ice cubes
1 cup milk
2/3 cup white sugar
Steps
1Bring water to a boil in a large stockpot. Pour in tapioca and simmer for 25 minutes. Stir occasionally to prevent sticking. Remove from heat and let balls sit in water for 25 minutes.
2Return stockpot to the heat; simmer and stir for 25 minutes more. Remove from heat and let rest again until centers of the balls are no longer powder, another 25 minutes. Drain.
3Combine brown sugar and white sugar in a large bowl. Pour tapioca balls into the sugar mixture. Cover with a damp cloth and let rest for 15 minutes while preparing the tea.
4Process tea, coconut cream, ice, milk, and sugar together in a blender until combined.
5Scoop 1/4 cup of the tapioca into each tall glass and fill with tea. Enjoy with large straws to suck up the tapioca, or use spoons.