Baklava I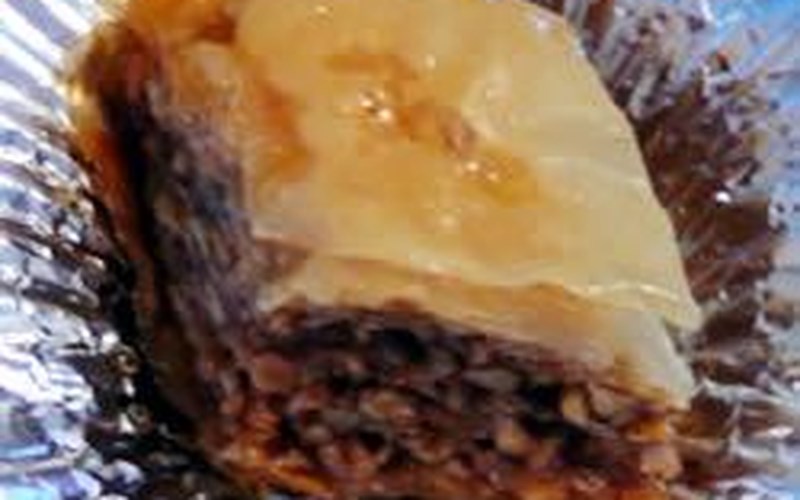 Preparation
15m
Cook Time
30m
Ready In
30m
Servings
36
Calories
236
Ingredients
1 pound walnuts
1/2 cup white sugar
1 tablespoon ground cinnamon
1 (16 ounce) package phyllo dough
5 tablespoons margarine
5 tablespoons vegetable oil
3 1/2 cups white sugar
2 cups water
2 tablespoons lemon juice
Steps
1Preheat oven to 350 degrees F (175 degrees C). Grease a 9x13-inch baking pan.
2Cut phyllo dough to size of pan, and place half the sheets in the bottom of the pan. Grind walnuts with 1/2 cup sugar and cinnamon in food processor or blender. Spread ground walnut mixture evenly over phyllo. lace remaining phyllo sheets on top of walnut mixture.
3Melt margarine with oil in small saucepan over low heat or in microwave. Brush over top layer of phyllo. Cut top layers of phyllo into diamond shapes with a sharp knife.
4Bake in preheated oven on center rack until golden brown, about 30 minutes.
5While baklava is baking, make the syrup: Combine 3 1/2 cups sugar, water and lemon juice in large saucepan over medium-high heat. Bring to a boil, then remove from heat. Let cool slightly.
6Remove baklava from oven and pour syrup over hot pastry. Cool completely before serving.