Authentic New Orleans Red Beans and Rice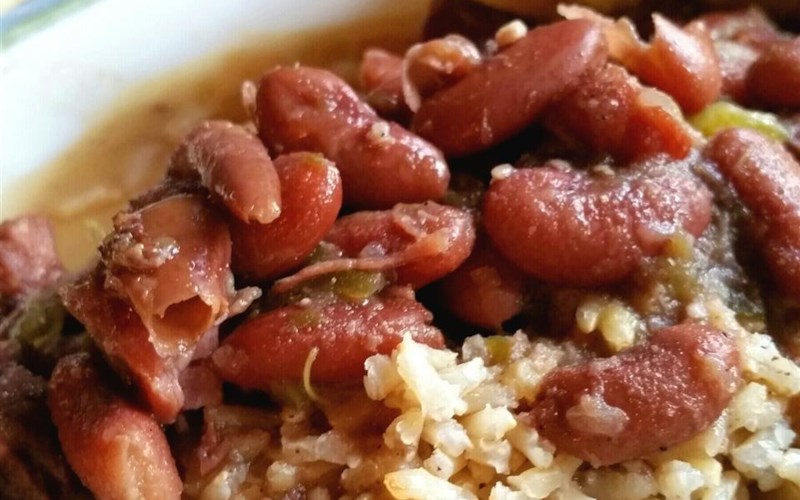 Preparation
20m
Cook Time
5h 10m
Ready In
5h 30m
Servings
10
Calories
465
Ingredients
1 tablespoon shortening, or as needed
1 white onion, chopped
3 cloves garlic, chopped
1 green bell pepper, chopped
8 cups water
1 pound dried red beans
1 smoked ham hock
1 pound smoked sausage, cut into bite-sized pieces
2 stalks celery, chopped
2 bay leaves
1 tablespoon Creole seasoning (such as Tony Chachere's®)
1/2 teaspoon dried thyme
1/2 teaspoon dried sage
1 dash hot pepper sauce (such as Tabasco®), or to taste (optional)
3 cups cooked white rice
Steps
1Melt shortening in a skillet over medium heat. Cook and stir onion, garlic, and bell pepper in hot shortening until tender, 5 to 7 minutes.
2Combine water, red beans, and ham hock in a large pot; bring to a boil. Stir onion mixture into the water; add smoked sausage and celery to the boiling water; return to a boil. Stir bay leaves, Creole seasoning, thyme, and sage into the boiling water. Reduce heat to low, place a cover on the pot, and simmer until the beans are tender, about 5 hours.
3Remove and discard ham hock and bay leaves; stir in hot pepper sauce and serve over white rice.